How does Sylvester Stallone kept fit both in his youth and older age. Why does he use growth hormone?
Hits: 201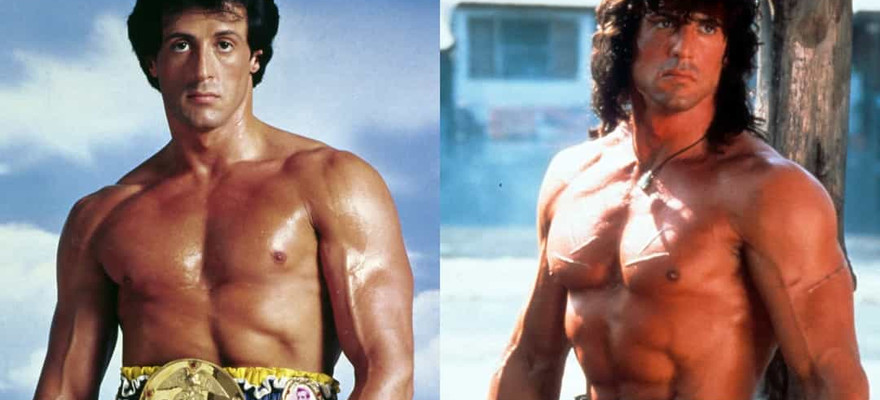 S. Stallone became a star in the second half of the 1970s, winning the hearts of cool movie fans with the legendary "Rocky". It is a great sports drama with an interesting plot and memorable musical accompaniment, but an athletic image of the actor has become an important element of success.
Stallone was always 101% devoted to training, and this helped to look like the perfect action hero in the frame. Moreover, the actor admits that he began to train regularly in the gym at the age of 30.
More than 40 years later, he still maintains a decent level of quality on the screen and surprises with a strong physical form. How is this possible after so many years? Let's try to figure out how Sly trains and how does somatropin have related to that.
Stallone training in his youth
In his prime years, Stallone was around 170-180kg in the bench press and 200-220kg in the squat. Before shooting Rocky 3, Slay trained literally from morning to night for several months. Such daily loads consisted of a couple of hours of running, 2-3 hours in the gym and, at the end, boxing sparring. He also tried spending at least an hour a day to swimming.
Another distinctive feature of Sly's training process is daytime sleep. Quiet hour not only for the kids, but also for Stallone has become an important detail of every day. After the harsh morning stresses, an hour of sleep helped to gain strength and continue training after lunch.
Sly loved to run up the stairs not only in the Rocky movies, but also in real-life training. The actor stuffed various weights of 25 kg into a backpack, and ran up the stairs with him. The way Sly works on the abdominal muscles is impressive. Using various exercises, he did about 500 abdominal reps in one workout.
In addition to strength training, Stallone paid a lot of attention to cardio and achieved the perfect relief in the frame. The diet in preparation for filming, in parallel with training, was very strict.
Features of keeping fit by Sly today
In older years, the actor did not have an urgent need to keep the perfect torso in the frame, and he focused on strength training and endurance.
If we talk about the usual daily routine during the period without preparation for filming, it is known that he spends about 2 hours working out the muscles of the arms, deltas, abdominal muscles, and also does not forget about turns with a gymnastic stick. Combines and modifies the program as needed. Usually Stallone trains for three days in a row, and rests the fourth day. If a tough business week is ahead, the number of workouts is reduced to two times, and the amount of food is also halved.
Stallone does not exhaust himself with strict diets at this age, but strictly monitors nutrition. At this age, every extra calorie remains noticeable on the body He uses a complete diet to maintain shape in addition to training.
Sylvester Stallone Hgh topic is actively circulating on the Internet. The thing is that in 2007 Sly was fined in Australia for importing almost 50 ampoules of human growth hormone (hgh). The actor acknowledged the mistake and commented on this by the fact that the ideal body condition necessary for filming in action films cannot be maintained at his age, since he does not naturally stand out in the proper amount in old age.
Growth hormone or somatropin stimulates the growth of muscle mass and bone tissue, participates in the regulation of the metabolism of carbohydrates, lipids and proteins. This means that he also needs Hgh to reduce the risk of injury, which is highly helpful for combat scenes and all other types of action-movie activities.
The actor uses growth hormone injections in addition to diet and exercise. He does this under the supervision of a personal doctor. This is the only correct way to use the drug safely.
Conclusion
As you can see, the secret of Stallone's "longevity" lies in a very competent and responsible combination of natural and stimulating factors for maintaining muscle mass and strength. His example should be followed by all athletes, and especially those who continue to actively engage in sports in older years.